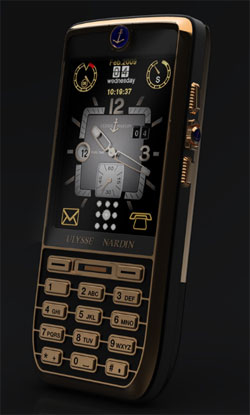 It doesn't matter if you are a homeless New Yorker or an uber rich businessperson; most of us have one gadget in common — the cell phone. There are few people today that don't have a mobile phone, though the type of phones we use varies greatly. Many geeks carry the iPhone and your mom may have the cheap phone that comes free with her plan. The mega rich also have their own type of cell phone.
Mobile phones like the Vertu Signature Dragon have been available for the elite for a while. A new handset is now available for the well-heeled buyer called The Chairman. The device is from SCI Innovations and watchmaker Ulysse Nardin. The main design feature of the phone is a functional watch rotor. The phone is offered in solid gold and steel/gold versions as well as all steel versions.
A watch rotor is the gear that powers a watch by kinetic energy. In the Chairman's case, the rotor provides auxiliary power to the internal rechargeable battery and is visible from the rear of the phone. Exactly how much power isn't specified, but it's probably miniscule. The handset will be available this fall at an undisclosed price. Don't worry, you can't afford it.
mobile phone, rich, watch