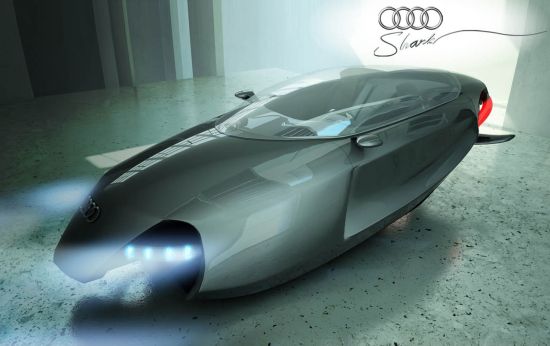 Is it a shark? A submarine? A flying car? All of the above. And it's the most badass flying car/shark/submarine I've ever seen. Kazim Doku's Shark concept is how he envisions the future of Audi's design: as a flying car. Design inspirations came from motorcycles and airplanes, and obviously underwater vessels.
Even the interior gets some sporty seats with the cockpit's sculpture, so you can sit comfortably while flying to work and playing with some buttons etc. Check out a video below. Who needs roads when you can fly in this kind of style?

Mostly, this thing just makes us want to shout Audi Shark flying car. Audi Shark flying car! Wahoo.
Audi, car, concept, flying, future, futuristic, Shark