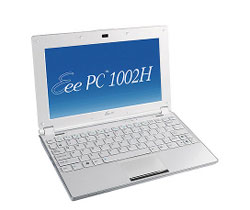 I am a big fan of netbooks with their small and portable designs and low price tags. The little machines have been able to do everything I expect out of a notebook when I have used them, albeit at a bit slower pace.
Asus has hoards of Eee netbooks in its line, which is a bit confusing to many shoppers. The company has added an additional notebook called the 1002H that has appeared on the Asus website. The new machine uses the Atom N280 CPU running at a 1.66GHz clock speed.
That new CPU should mean the machine is capable of HD video decoding. The machine features a 160GB HDD and promises a battery life of five hours. The best feature is that Asus is using the new chicklet-style keyboard on the machine that puts the right shift key where it's meant to be. Pricing is unknown at this time and the machine will come in black, pink, and white colors.
ASUS, Eee, Netbook