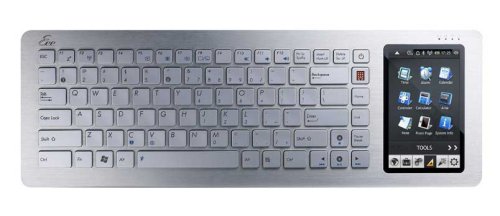 Great news. Asus's awesome Eee Keyboard will be available in May or June for only $400-$600. It's essentially a home theater PC inside of a keyboard, complete with wireless HDMI and a secondary touchscreen. According to Asus CEO Jerry Shen, they're working on two different models, one wired and one wireless. The wired version will cost around $400 while the wireless will be around $600.
The keyboard features a 5-inch built-in display, 1.6 GHz Atom processor, 1 GB of RAM, 16/32 GB SSD, Wi-Fi, and Bluetooth. It's got all of the ports you want like wireless HDMI, 2 USB 2.0, VGA, HDMI, and audio in/out. We've been waiting for this one. It's almost here.

Dust off your credit cards for this one.
ASUS, Eee, Home Theater, keyboard, pc, Touchscreen