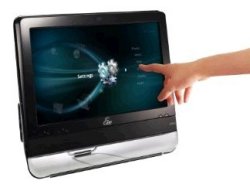 Maybe you've been looking for an inexpensive all-in-one for your kitchen, so you can look up recipes or read the 'Brick while burning dinner. If so, you might want to have a look at ASUS's Eee Top.
It's almost available in the US as it has a pre-order page on Amazon.com. The 15.6-inch touchscreen model has a 1.6GHz Atom processor, 1GB of memory, and XP installed on a 160GB drive. It's available in either black or white flavors for $599.99 with free shipping. If you already have one by the time you read this…Something's burning. Go check.

It will also look nice on your computer desk if you don't need recipes.
Amazon, ASUS, Eee, pc, pre-order, Top