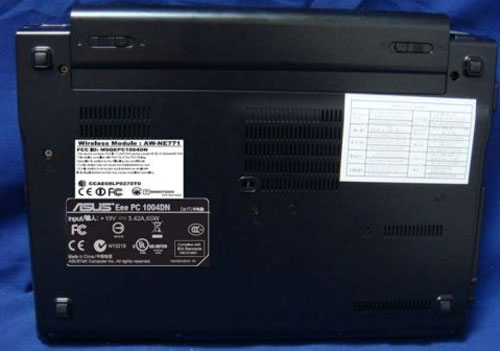 At CES 2009 in January I used a netbook, the MSI Wind U100, exclusively at the show. It didn't take long to realize that the business world today still expects you to have access to an optical drive. The vast majority of information given at the show was on CD or DVD, which is a problem considering the netbook lacks an optical drive.
The Asus Eee 1004DN has hit the FCC website seeking approval for sale in the US. The netbook will fix the issue many netbook users have of the missing optical drive. The 1004DN is the first netbook to feature an integrated optical drive in the Asus line.
The drive is a SuperMulti unit that not only reads CDs and DVDs, but can burn them as well. The scant other information we do know about the machine is that it has a 10-inch LCD, 1GB of RAM and runs Windows XP. There is no word on when the machine may not be available in America nor is pricing info available.
1004DN, ASUS, Eee, Netbook