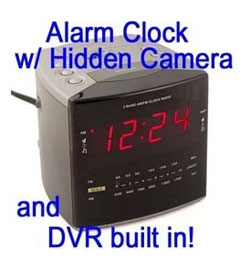 There are lots of reasons to put hidden cameras in your home from the legitimate use of keeping an eye on your kids to the more nefarious spying on other people in the home without their knowledge. Whatever the reason you want to put hidden cameras in your home this new clock radio camera with built-in DVR is not cheap.
The device retails for $499 on sale and has a high resolution, low lux camera that records to a removable 8GB SD card. The device features motion activated recording and records in MPEG-4 mode and can snap Jpeg images for a longer recording time. Images and video can be stamped with the time and date.
A video output port allows video to be viewed directly on the TV. Two versions of the clock are available with a black and white model selling for $499 and a color camera selling for $599. The Jpeg capture mode can snap one image every second and video is recorded in MPEG-4 at resolutions of 320 x 240 or 640 x 480.
alarm clock, Hidden Camera