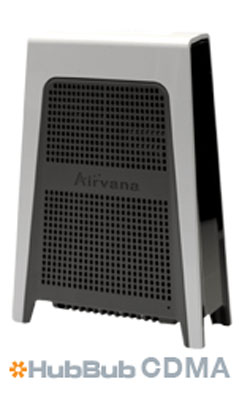 Femtocells are small devices that resemble wireless routers that take cellular signals indoors and route them across the Internet allowing users to get better reception when in their home or office. Most femtocells focus on being able to improve voice call quality and fail to mention benefits provided in data speeds.
Airvana has been showing off its HubBub CDMA femtocell and is focusing on the improvements the device offers on broadband speeds and connectivity indoors rather than voice call quality. The company says that studies have shown that while 36% of voice calls with mobile phones happen inside a user's home, 45% of data usage happens inside the home.
Airvana says that its femtocell provides data speeds indoors of up to 3.1Mbps and that in testing speeds inside a variety of different homes were at least 2Mbps across the entire home. Those speeds are much higher than what the user would get by using the 3G network alone says Airvana.
Airvana, Femtocell