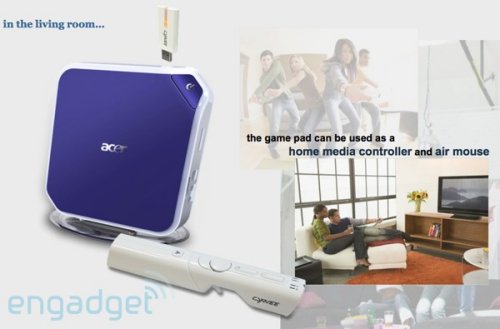 Remember that hot Acer Hornet nettop we heard about a few months back? There's some more info and if things are as they appear, it could be a super awesome cheap HTPC. It supports 1080p video playback over HDMI and the "Media Center" version will come with a Wii-type remote for gaming and media control.
Specs seem decent for the $149-$299 price range. The low end model appears to have an Atom N230 with 1GB of RAM and an 80GB drive preloaded with Vista Home Basic. On the higher end you get 2GB of RAM, a 160GB drive, and a "Boxshell" quickboot OS in addition to Vista Home Premium.

Don't forget about the super-quiet sub-26dB operation and diamond-shaped chassis designed to fit on the back of your flatscreen.
1080p, Acer, Hornet, HTPC, leak, specs