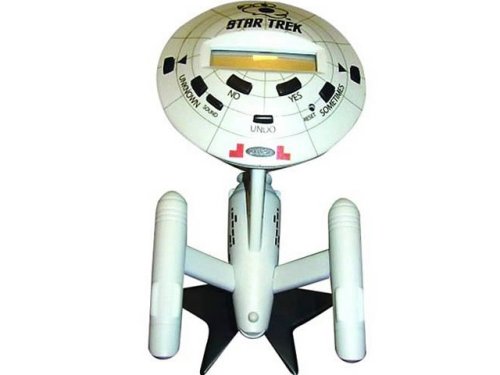 In case you haven't noticed there's a new Trek movie that seems to resemble 90210 or One Tree Hill. Before you see it, you're going to want to brush up on your geek knowledge with this 20 Questions Star Trek Edition Game. It will let you test your Star Trek knowledge with the typical 20 questions gameplay.
This version just happens to look like the Enterprise. So when you tire of it after 20 seconds, you can display it proudly on your desk next to your other Federation and Non-Federation ships.

Questions I would like to ask it: Why did Star Trek suck after Next Generation? Why would anyone enlist knowing they would have to wear a dreaded red shirt? Why did neither Dr. Crusher or Deanna Troi ever get naked for my amusement? Why not just set up transporter hubs across the galaxy and just beam back and forth instead of flying?
20 Questions, edition, game, movie, Star Trek