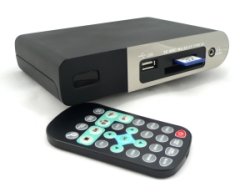 Hi-Den Vision based in Hong Kong have created the worlds first HDMI 1080p digital photo viewer dubbed the HD-0310. This gadget hooks up to your 1080p HDTV and allows images to be displayed from a memory card direct to your HDTV.
The HD-0310 1080p photo viewer is pretty compact and will use USB storage devices and Compact Flash Type I/II, SD, SDHC, MMC, MS, MS Pro, MS PRO Duo, SmartMedia, MiniSD, Trans-Flash, MicroSD and xD. It also sports video playback through the USB port. The 1080p photo viewer will also give you 16 transitional effects as well as random playback of images. If you like, you'll be able to skip through images with the remote control.

The HDMI 1080p photo viewer will cost around $60 when launched.
1080p, digital, HDMI, HDTV, photo, pictures, Viewer