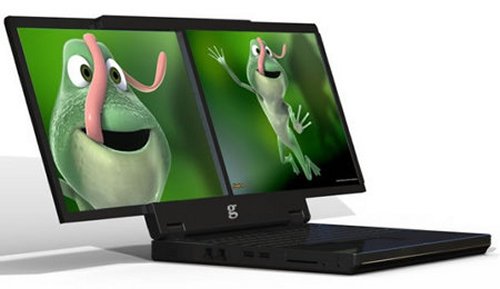 The U.S. Navy apparently desires a laptop capable of displaying 2 animated frogs at once. On two separate displays. Well, they got it in this multi-screen, rugged, battle-ready laptop. The gScreen TITAN M-1 dual screen workstation, which is the most rugged version of the G400, built specifically to specs requested by the NAVY.
It will withstand extreme environments and meets MIL-STD 810F standards. Some features include: Intel Core 2 Quad QX9300 processor, 4GB of memory, and 500GB hard drive. And of course the two frog displaying screens for cartoon frog multitasking.

Nothing on the price or availability of these rugged laptops, but it's your taxes at work.
gScreen, laptop, M-1, screens, TITAN, two, US Navy