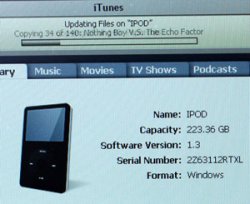 If your iPod is out of room and you don't want to do the necessary surgery on it yourself to upgrade the hard drive, some pros are now ready to do it for you. Rapid Repair just announced the first 240GB iPod upgrade, which is available for all original iPod Video models.
They can replace your hard drive with a Toshiba MK2431GAH 240GB 8-mm hard drive, which gives your old iPod double the current iPod classic's space. Apparently, they'll do it for the iPod Classic and Zune 2G too. There's no price listed yet, but since they'll charge you $189.99 for a 120GB Samsung SpinPoint N2 hard drive, you can do the math.

Given what you originally paid for your iPod, this is a pricey upgrade, but what are you gonna do?
240 GB, iPod, Rapid Repair, upgrade