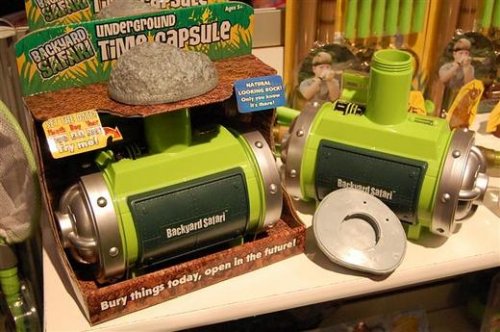 Kids are like dogs. They make messes, they dig stuff, they bury stuff…Some slobber all over themselves. They love to bury things and dig them up like 20 years later. Check out this awesome toy that I never had as a kid. The Underground Time Capsule.
It's designed to go underground and hide precious objects for future generations(Or yourself) to find. You know, Baseball cards, bottle caps, a porn mag or two. What makes this so interesting is that it makes the process easier for you with a screw-on rock at the top, allowing you to add new items without digging it up again.

Sadly it isn't watertight, which kinda defeats the whole purpose if you ask me. You want your stuff protected. Still, it's an awesome new toy that reminds us of our childhood. The first. We are in our second or third now.
bury, dig, dirt, Play, Time Capsule, toy, Underground