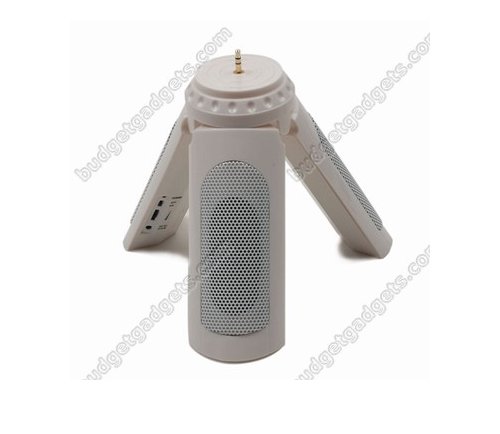 We've covered our share of cheap crap gadgets 'round these parts, but sometimes what looks like a cheap gadget can surprise you. Like this Tripod MP3 speaker for instance. Yeah, iPod/MP3 speakers are a dime a dozen, but they aren't all created equal. I picked up one of these Tripod speakers because although my laptop has great sound, it could be louder, so I figured I would take a chance on this one.
The design is cool because it pumps the music in three directions. And as far as loudness, it doesn't disappoint. In fact, it's surprisingly loud and I haven't had any sound problems at all, like crackling etc. Just attach your MP3 player via the headphone jack, plug it into your USB port and you're good to go.

It will also run on 3 AA batteries if you want. It's a nice affordable way to up your sound and it will surprise you. It stands about 6 inches tall, so it's great to take with you just about anywhere. You can get one at budgetgadgets for $19.16. And if you want one, the folks at budgetgadgets have agreed to give our readers a discount. Use coupon code CM5OFF3 at checkout and you'll get a 5% off discount site-wide.
audio, iPod, MP3, music, Review, sound, speaker, tripod