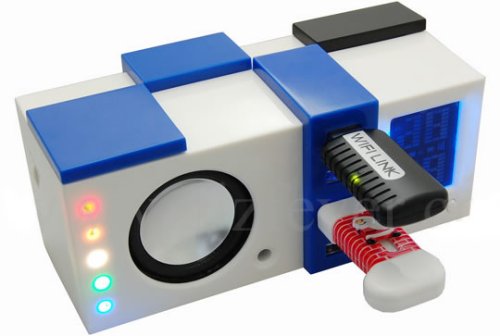 Back in October we told you about this cool looking retro speaker that sports Star Trek looks and gives you 3 gadgets in one. Speaker, 4 USB ports, and a clock. We had a chance to check one out in person recently. The good news is that it looks just as awesomely Trek in person. The design is really cool and you can easily see this on the set of the original Star Trek.
As soon as you power it up, the one thing that hits you is how bright the LED lights are. Blindingly bright. Almost annoyingly so. It will bother some people, while others won't mind, since having a good looking hub on your desk is the trade-off. The lights do make it look more Sci-Fi if you have that kind of decor. The clock is pretty cool. No problems there. And as a hub it does it's job.

We were a little disappointed in the speaker. Maybe it's just the model we got, but the sound would crackle now and then for no reason when set high. And when it comes to volume, it just doesn't crank up that high at all.
Bottom line, this is a very cool 3 in 1 speaker hub that would probably work out great for you as long as you don't mind the super bright LEDS and have it close by. For us, the design actually makes up for any shortcomings. But we're Sci-Fi geeks. You can pick one up for about $13.
Update: The folks at budgetgadgets want our readers to save some money. Use coupon code CM5OFF3 at checkout and you'll get a 5% off discount site-wide.
clock, hub, retro, Review, speaker, Star Trek, USB