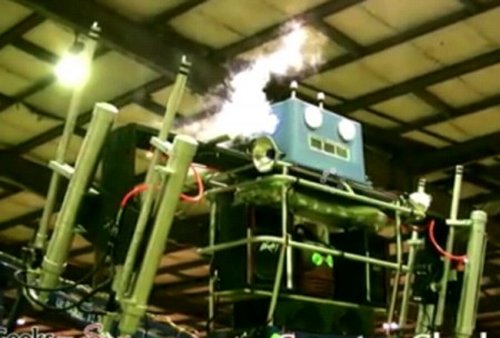 There's no rhyme or reason to the three story tall Ponginator. It simply exists because it must. Humans must have a gigantic robot that shoots ping pong balls at speeds of 170mph. Inventor, Vernon Graner built this monstrosity together with the Austin Robot Group. It is capable of standing three-stories tall thanks to the attached bucket lift.
This bot makes people crazy. Insane people actually request to be hit by the pingpong ball projectiles that it hurls. This ping-pong shooting King Kong robot was made to promote to the Austin Robot Group and to get people asking questions about robotics in general. It has worked. Because I need to ask how the hell you survive this thing if it goes rogue and pelts you with like 200 balls. Check out a video of the Ponginator in action below.

One can easily see hundreds of corpses littering some stadium floor, each riddled with dozens of ping-pong balls like smooth dead porcupines.
[Geeksaresexy] VIA [Botropolis]
balls, ping pong, Ponginator, robot, shoots