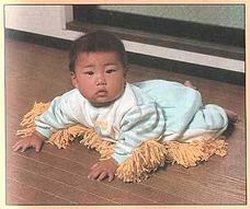 Why did I not think of this? With the Baby mop, having a baby means never having a dirty floor again. It's brilliant! They call them rugrats because they are always crawling all over the floor anyway. Junior can make himself useful while he's whining about that overflowing diaper. Put some elbow grease into it, give it a little drool for that extra shine.
It lets you get on with neglect while baby learns a work ethic. Child services may not like it, but I bet their floor is filthy. Too bad there's no purchase information. Probably just a gag. Too bad, cause I think some swiffer pads on the opposite side would complete the suit.

Poor kid. He looks shocked to be caught in such a position.
baby, cleaning, clothes, funny, mop, suit