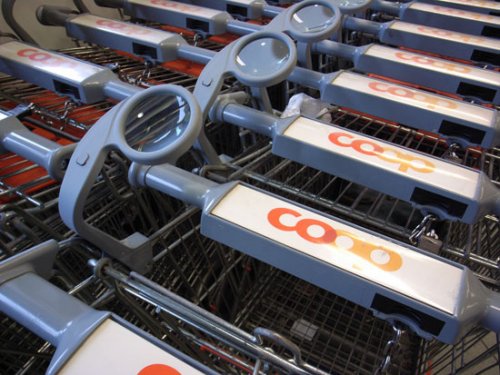 You want to eat healthy, but it's hard. Those nutritional labels are small for a reason. So they are hard to read. You'd rather focus on how delicious those chips are going to taste in an Oreo sandwich. But some of us actually want to know what we are putting in our bodies. Some people are obsessive about it. Whether you are just watching your sodium intake or you believe that too much high fructose corn syrup will give you erectile dysfunction, it could sure be easier to read those labels with a shopping cart like this.
These carts feature a built-in magnifying glass so you can easily read the package as well as have a closer look at the shrinking boxes they are giving us for the same money. The carts can be found at a co-op in Geneva, Switzerland, but I think we here in the US could do with some.

Maybe the magnifying glass could detach so you can inspect that one wobbly wheel that always seems to come with your cart.
food, grocery store, labels, magnifying glasses, nutrition, Shopping carts, swiss