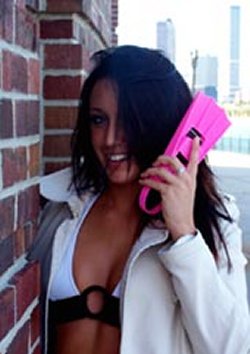 So, what can we take away from this image? I think it says that hot women love ridiculous gadgets. In pink. Shaped like a Flipper. I think we can also safely say, judging by this image that, should a woman slide her phone into a flipper shaped case, cleavage will follow.
If you hit the link, you'll see some more hot women who worship the stupidest phone case ever, as well as some happy looking douche that looks like he should be on the beach trying to bum some money off you. Oh, and there's also a shot of this thing hanging from your belt loop and looking oh so hip.

$19.95 is all it will cost you to be just like them.
case, Fin, flipper, ladies, phone, sexy