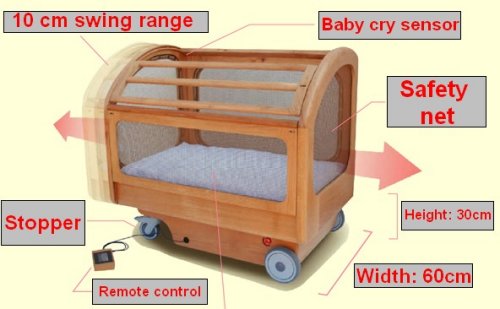 Taking care of a baby is a full time job. What with the crying and the feeding, the puking and the pooping. Who has the time or energy to give human contact to a new lifeform? This robotic crib will do all of the work for you. Your child may never know the joy of human touch again. The Suima crib was developed at Kyuushuu University in Japan and will rock your baby to sleep if it wakes up crying.
It hears the baby's cries via a microphone. When a cry is detected, the crib will sway side to side once every 1.8 seconds, which gets the infant back to sleep quickly as it mimics the parent's arm movements. You can rent one in Japan for about $100 a month or buy one for between $4,500 and $5,500. You know, if you really really want to neglect your kid. Somewhat creepy video below.

Maybe go out on the town, have a few drinks. It's all good. The robotic crib is doing all the work. No, really, don't do that.