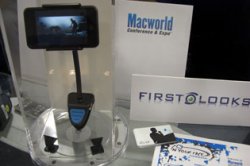 A while back we told you about the iFlyz iPhone holder, designed to hold your iPhone during long flights. It's a great idea for sure, but you have to question the whole suction cup idea. You don't want to trust your expensive gadget to a suction cup.
That's where the In Your Face iPhone holder comes in. It does pretty much the same thing, for the same price, just in a much safer way as there is no suction cup involved. Instead it uses a much stronger spring-loaded iPhone clamp. I'm happy to report that it does it's job well and has multiple uses while you keep your hands free.

Can be used to hold all kinds of other devices as well, up to the size of a PSP. The swivel clamp will attach to all kinds of surfaces. And it also makes a great tripod for taking images and video on your phone, which is frankly awesome.
It really is great for the price and comes in handy pretty often, so I recommend it for anybody that owns an iPhone. It's the kind of helpful gadget that you think you don't need…Until you get one. Then you find it very useful. You'll get quality customer service too since In Your Face is a family run business. $29.95.
hands-free, holder, In Your Face, iPhone, Review, tripod