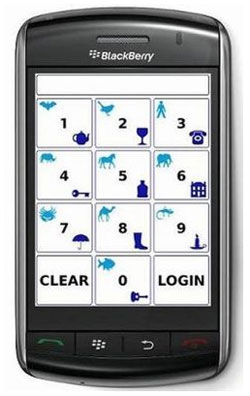 Most of us are aware of the security concerns of losing a notebook or a flash drive, but with the growth of smartphones, losing your phone could be just as bad if not worse. The typical smartphone today has all sorts of emails, contacts, and access to secure corporate networks tucked inside.
Some people use security with a 4-digit pin to log into their phone, but even a pin can be defeated easily enough just by watching someone log in. PINoptic is a new software product that installs on the smartphone and uses a series of images rather than numbers to login to the device.
The images are randomly associated with different numbers on the number pad. Pushing the correct image sequence generates a one-time password that promises to make smartphones 37 times more secure than using a password alone. The company making the software says that it would take someone with a clear view of the phone ten times watching you login to be able to glean the password. Hopefully you would realize they were watching you before that happened.
Security, smartphone