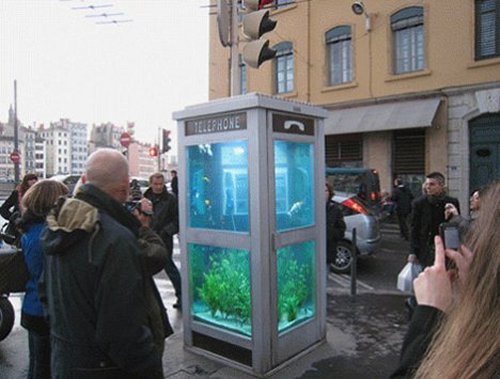 What a confusing world this has become for the modern day Superman. It used to be he could change into his Superhero outfit in any old phone booth. But in many areas phone booths are to be found less and less. That explains why you never see Superman right? So, along comes this here Phone Booth Aquarium, adding insult to injury, as Aquaman now has a place where he can make a quick change.
Okay, it's not Aquaman's. It's from artists Benoit Deseille and Benedetto Bufalino, who decided to do something special for the Lyon Light Festival in France. That's right, they turned an unused phone booth into an aquarium. It makes for an interesting tourist attraction.

The only problem is, how would Aquaman get in and out easily without spilling all the water?
Aquaman, aquarium, art, DIY, france, phone booth, project