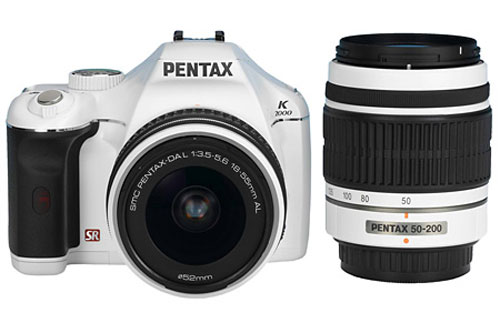 When many consumers start to move from the world of point-and-shoot cameras into the DSLR realm, they look for some of the most cost effective cameras for their first foray. Pentax has long made some of the cheaper DSLRs you can get including a couple models in its K-series.
Pentax has announced price cuts for its K20D and K2000 DSLR cameras. Pentax is offering shoppers looking for the K20D a $100 in store instant rebate that is good on either the K20D body only or the K20D body and lens kit. Also offered on the K20D is a three year warranty rather than the one year standard. The offers are good through the 22 of this month.
Pentax is offering deals on the K2000 as well. The Pentax K2000 Flash kit that includes the K2000 body, lens, and external flash is selling for $599.95. A K2000 two lens kit sells for $649.95, the K2000 single lens kit retails for $549.95 and the K2000 body only sells for $499.95. The slick white K2000 that I talked about before is selling for the same $679.95 price it debuted at.
digital camera, DSLR, Pentax