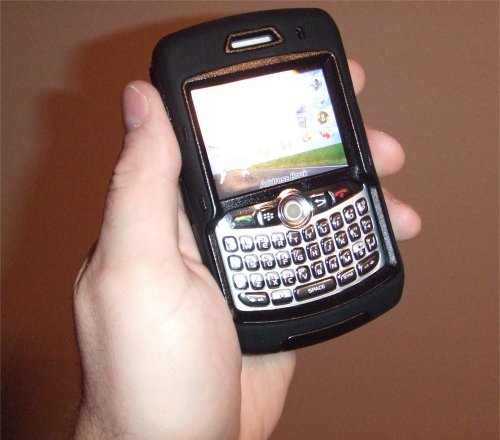 The folks over at OtterBox, protectors of gadgets for the active and accident-prone, gave us a chance to try out one of their defensive products to see just how well it holds up. In this case, OtterBox sent us a protective case for the Blackberry Curve, a device I have with me day in and day out.
Since the case from OtterBox is protecting something I own and depend on daily, we did not put it through the usual drops, dunks and vodka-proof trials that we would normally do. But, despite this we can tell you that this case blows away any other protective case we've had our hands on, for any mobile device.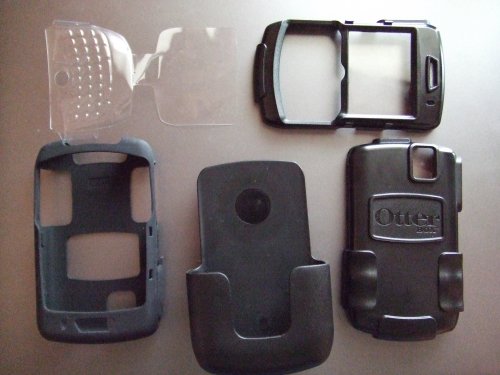 We thought the best way to describe this protection was to take you through a quick tour of encasing the Blackberry Curve:
For starters, you need to still be able to press that QWERTY keyboard. To address this OtterBox created a molded, flexible membrane that is molded to fit around not just the phone but each individual key, and leaves a small hole for the track ball. When using it you can tell the membrane is there, but if you get it on straight its not noticeable by much.
Once this is applied, you can snap your phone into a hard plastic shell that encases pretty much the entire phone. It has a clear, flat plastic window for the display and leaves the keys open to expose the previously added membrane. There is also open ports for all the buttons, camera lens, speakers and ports.
On top of the hard plastic shell applies another case, but this time more rubber like. It stretches and snugly fits around the hard plastic case both holding it together and providing a soft case for drops and bumps. This rubber "glove" provides raised sections for pressing buttons without exposing the actual buttons. It also has pieces that can "fold" out and be put back in for exposing the ports, only when you want to.
In addition, the case comes with a holster and belt clip, designed to hold the device tight… real tight. Be sure to place the phone in the holster with the screen facing in. It will fit in the other way but you will notice that it will not stay put nearly as well. The holster is also made of a hard plastic giving another layer of solid protection at your hip.
Smartphones like Blackberry's and the like have been traditionally synonymous with indoor office use, but they being found more often attached to individuals with more active roles and the phone itself is often just not built for it. The case from OtterBox is not marketed as waterproof but it has to be pretty close.
The downside is that it does have the exposed trackball but that one is pretty hard to get around while still maintaining its functionality. It also makes the phone quite a bit more bulky, and with the holster it is easily more than twice as thick. But, if you want the advantages of a smartphone such as a Blackberry Curve and lead a more active, or just plain clumsy lifestyle, you'll be doing yourself a favor by taking a look at one of these cases from OtterBox. The case comes in black as we show here or a black and yellow model, both retailing for just under $50.
OtterBox Blackberry Curve Defender case
Blackberry Cure, Cases, defender, Hands on, Otterbox, phone case, Review