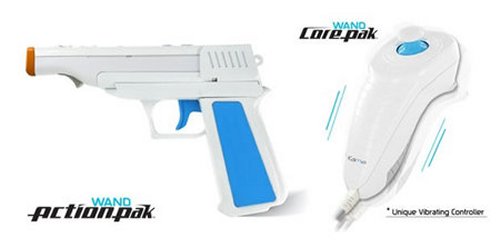 Nyko has unveiled new accessory packs for their Wand 3rd-Party Wiimote. You can get the Wand Action Pak and the the Wand Core Pak. The Wand Action Pak includes a Wand Wiimote and Pistol Grip. The new pistol grip has a digital connection to the remote instead of the usual mechanical connection to a button. It's Trans-Port so they claim it will reduce wear and tear. There is also a switch on the bottom of the grip that can flip the A and B buttons for use in different games. That's probbly the best part.
The Wand Core Pak includes a Wand and a wired Kama, Nyko's own version of the Nunchuck. The Kama has vibration and connects to the Wand with a 4 foot cord. The Wand Action pack will be available for $49.99 in June, while the Wand Core Pack should be available also in June for $49.99.

The Wand itself can be had for $34.99.
Accessories, Nyko, wand, Wii, Wiimote