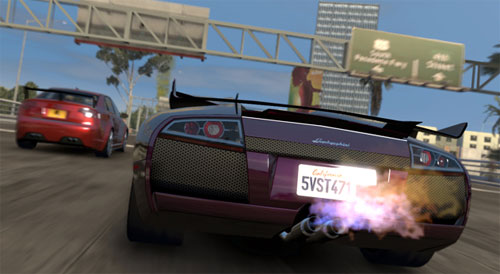 One of the coolest games I have played on the PS3 for a while is Midnight Club: Los Angles. I think the game is every bit as fun (and very similar to) Need for Speed Undercover. One of the most interesting parts of Midnight Club: LA is that the locations in the game are all real from the LA area.
Back in December 2008 I mentioned that Rockstar had said it would be bringing DLC for the game to players. The developer has finally announced a launch date for two different DLC packs. Both packs will be available for the Xbox 360 and the PS3 on March 12.
One of the packs is the South Central Map update, which is free. The map expansion adds one third more driving area to the game and four new neighborhoods. The premium DLC pack adds nine new vehicles, 26 new races, 12 new battle maps, 10 delivery missions, 100 new red light races, new rims and other car parts and new music. The price for the premium DLC content is $9.99 on the PS3 and 800 MS points on the Xbox.
DLC, Midnight CLub: LA, Rockstar