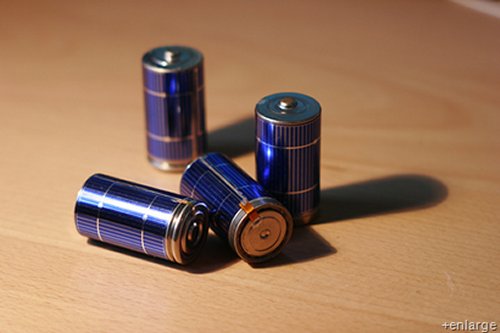 Want some batteries that you can put out in the sun and power up? Knut Karlsen constructed his very own solar rechargeable batteries that soak up the sun's rays and convert them into power. If you want to try your hand at making some, he has documented the DIY project to create the prototype SunCat battery. If you can get your hands on some flexible solar cells.
Knut has some connections at the Institute for Energy Technology, so it wasn't a problem for him. Basically Knut attached the solar cells to old rechargeable NiMH batteries and used contacts from an old camera to connect the negative pole to the photo voltaic cells. And just like that you have batteries that can sit out in the sun and store up energy.

I'm thinking he should sell a kit that has various flexible solar cell sleeves. Something that's easy enough that people can just slide the battery in and fold over the top. He would make a lot of money.
Batteries, DIY, mod, Rechargeable, solar