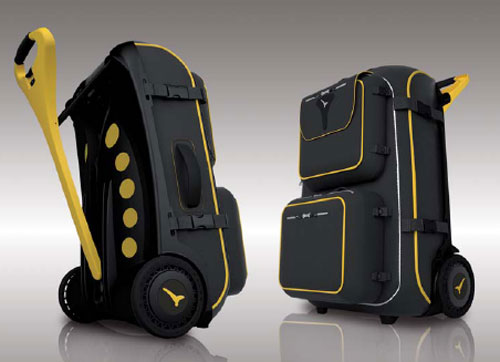 When I travel I go light with nothing that I can't fit in my two allowed carry-on bags. My wife on the other hand packs enough clothing and stuff that she uses one of those massive suitcases that you have to check. Despite the fact that I pack light, I end up pulling my wife's massive bag through the airport.
Last year a company called Live Luggage announced a bag for people tired of schlepping big bags around that has a battery powered electric motor inside to help with getting around.
Today the company announced a new bag called the Hybrid PA that uses the same battery and motor of the original bag but features a soft suitcase that has removable sections for short weekend trips and a laptop. The bag's handle puts 85% of the weight of the bag over the wheels and the motor assists when on inclines, stairs, or going over curbs. Live Locator is built in as well that sends the owner a text to let them know where the bag is. The bag will sell for £195 with VAT to the first 300 people who buy.
bag, Live Luggage