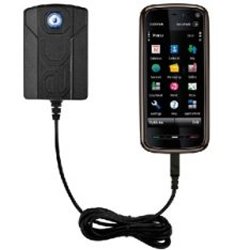 If you're a Nokia cell phone user, you'll want to check out the KIT Eco Charger from Carphone Warehouse, now for sale in the UK for £23. The KIT Eco Charger is a bit different from other chargers in that it can turn itself off automatically once your phone is fully charged. That way, you can leave your handset connected to it as long as you like and not have to worry about wasting electricity. Always a good thing.
According to a company spokesperson, "If everyone in the UK used a KIT Eco Charger we would save approximately 300,000,000 kwh of electricity per year. At an average cost of 28.5p per kwh, that would be a collective saving as a country of £85m!" Sounds pretty good. Sadly not everyone in the UK uses a Nokia.

I think we will see the company crank out some versions for other cell phones real soon.
Eco Charger, kit, Nokia, phones, uk