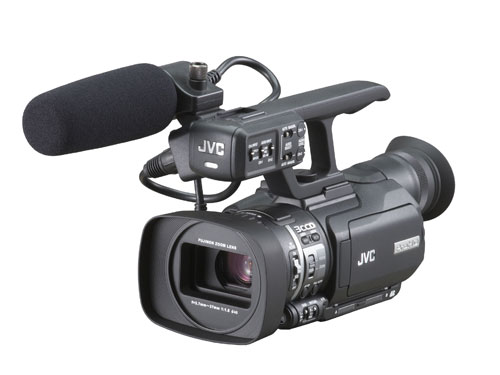 When we thing of camcorders the normal cameras that consumers across the globe use to record videos for YouTube and home movies come to mind. However, many professionals use camcorders to record documentaries and other content, albeit much higher priced camcorders.
JVC announced a new camcorder in its professional line today that is called the GY-HM100 ProHD camcorder. As the name suggest the camera can record in 1080p, 720p, and 1080i resolutions and features the proprietary JVC 35Mbps MPEG2 encoder.
The camcorder stores video to class 6 SDHC cards and the cam offers dual SDHC slots. When one memory card fills up video is automatically recorded to the second card. The camera also records in .mov format, the native format for the popular pro editing application called Apple Final Cut Pro, meaning no encoding is needed before the footage can be edited. JVC says the high-end camcorder will be available in April for $3,995.
camcorder, Final Cut Pro, JVC