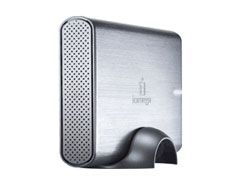 Last summer Iomega unveiled a product providing what many DVR owners find themselves needing much sooner than they thought — more storage space. The Iomega DVR Extender is an external 500GB hard drive that connects to DVRs via eSATA.
Iomega announced today that users of Pace set-top cable boxes can now use the DVR Expander to add up to 300 hours of storage for standard def programs and up to 60 hours of HD content. The most interesting part of the announcement is that if users have Pace boxes that lack a hard drive, the DVR Expander will turn them into full featured DVRs.
Another nice feature of the DVR Expander is that you can store video to both the external drive and internal drive. The system will send video to whichever drive has the most storage capacity at the time. The 500GB DVR Extender retails for $149.99.
DVR, external storage, Iomega, Pace