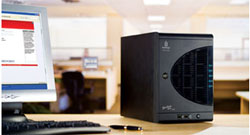 When it comes to providing storage for multiple computers on a network in an office or home, the easiest way to do that is with a network storage device. These devices connect directly to a network and offer external storage for any computer on the network.
Iomega has announced a pair of new network storage devices in different capacities called the StorCenter Pro ix4-100. The ix4-100 comes in either 2TB or 4TB capacity and both versions use four internal hard drives that are hot swappable.
The devices support RAID 5, RAID 10, and JBOD configurations. Four USB ports on the drive allow the addition of more storage space via external hard drives or allow a printer to be attached for network printing. The drive supports Windows, Linux, and Mac computers attached to the same network. Pricing for the 2TB model is $799.99 and the 4TB version retails for $1,299.95. Both will be available this month worldwide.
Iomega, NAS, Storage