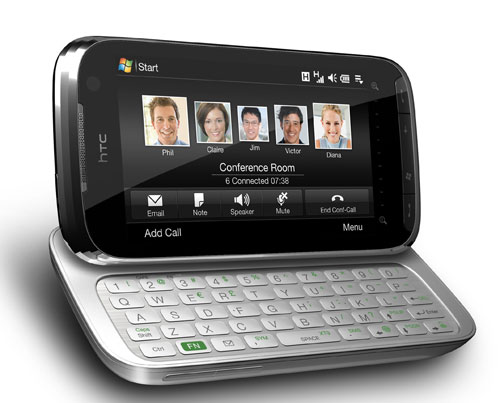 HTC has unveiled its latest mobile handsets at MWC 2009 in Spain with the unveiling of its Touch Diamond 2 and the Touch Pro2 handsets. Both handsets use Windows Mobile with the TouchFLO 3D interface. TouchFLO 3D promises to make navigating Windows Mobile easier that using the OS alone.
The Diamond2 features a 3.2-inch widescreen VGA display and is only 13.7mm thick. Other features include touch-sensitive zoom and a 5MP camera along with expandable memory, a gravity sensor, and an ambient light sensor. Battery life is promised to be 50% better with the Diamond2.
The Pro2 has a 3.6-inch screen and a QWERTY keyboard. Battery life has been improved and the phone has a gravity sensor, proximity sensor and ambient light sensor. Memory is expandable and it is optimized for touch navigation and heavy email use. The Diamond2 will be available in Q2 2009 for European and Asian consumers with other areas rolling out later in 2009. The Pro 2 will be available this summer.
HTC, Pro2, Touch Diamond2