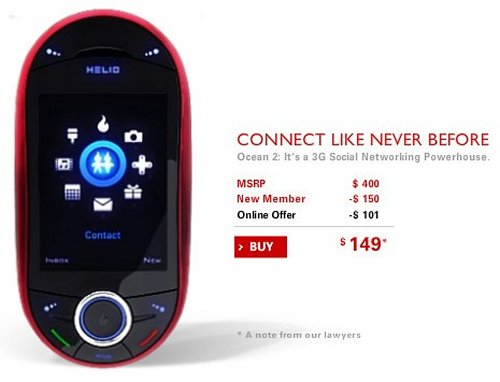 We said that today would be the magic day, and here it is. Today Helio's Ocean 2 becomes available and gets it's very own "Buy" button. It will cost you $149 on contract or $400 without. Today Helio members also benefit from the new nights and weekends time starting at 7PM and free mobile-to-mobile, between Helio members.
A refresher on specs: 2.6″ TFT display with 240 x 320 resolution, 3G connectivity, GPS with Google Maps, Easy access to Facebook, MySpace, YouTube and Flickr, Stereo Bluetooth connectivity, Media player with background mode playback, 3.5mm headset jack, Opera Mini, Mail for Microsoft Exchange, File Viewer with document editing capabilities, 3D gaming, 2 megapixel camera with location tagging and video recording, microSD memory card slot.

Pretty cool. Are you getting one?
$149, contract, Helio, Ocean 2, on sale