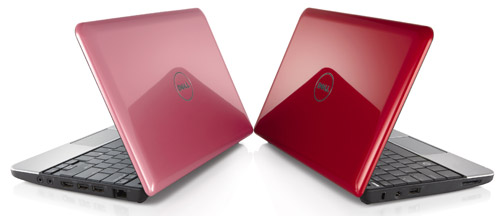 I really like netbooks, the small systems are perfect for the light work I and many others need to do on the road. Moreover, they are cheap, small and light making them easy to carry and fit into the budget. I haven't used a Dell netbook yet, but I may consider one now that a new 10-inch version is official.
I was never a big fan of the Mini 9 or Mini 12 netbooks; they were too small and too large. As the antagonist of the three bears would put it, the Mini 10 is just right. Dell says that we will be able to buy the Mini 10 directly from Dell.com on February 26 and that QVC is offering pre-orders on the netbook right now.
The QVC version will ship free and include a 4GB SD card. The machine has a 92% full-size keyboard and a 10.1-inch edge-to-edge widescreen display with WSVGA resolution. Other features include HDMI out, built-in Wi-Fi, webcam, and comes in several colors including red, green, black, white, pink, blue and green. Pricing will start at $399 for the XP version with 1GB of RAM and a 160GB HDD.
Dell, Mini 10, Netbook