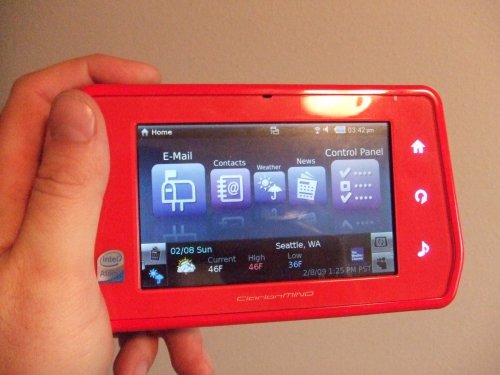 The Clarion MiND appears to be a GPS navigation device at heart, but expanded into a special type of mobile internet hybrid device packed with connectivity and applications bringing dangerously close to a mobile PC, but just not quite. The mobile device has many addition features such as an internet browser, YouTube viewer, media player, file storage, weather, news, maps and of course navigation but runs its own type of hard-wired OS that leaves little for customizations.
The MiND is basically a small mobile computer running on an 800 MHz Intel Atom processor with 512MB of RAM, 4GB of internal storage (with an additional MicroSD card slot) and connects to the world via Wi-Fi, Bluetooth and of course GPS. It also houses a couple of USB ports for connecting and transferring data, a headphone jack, speaker and docking port for an included dash mounting kit.
Operating the device is fairly intuitive and for the most part was quick to figure out with little instructions. It has a touchscreen interface along with a stylus since some items are a little small for fingers, and three dedicated buttons on the side for navigating Home and to some common menu items. The main Home interface consists of large, descriptive icons that can be listed side by side showing a few at a time, or in a rotating "wheel" that can be spun.
The GPS alone on the ClarionMiND was fairly impressive, offering up to date maps, voice turn by turn directions with street names, and a couple of views for 2D and 3D. Points of interest are indicated along the way as well, but the GPS alone doesn't quite warrant the $650 price tag compared to the features of similarly prices GPS devices. What does put the MiND over the top however is dozen-plus other applications that come with it.
The mobile device from Clarion packs in a Firefox-based full browser that allows normal viewing of web pages, a MySpace interface, YouTube videos, a limited email client, Contact book, weather from Weather.com, some limited news feeds from CNN and the BBC, a notepad, RealPlayer, calculator and a file explorer. Internet can be accessed through a Wi-Fi connection when you have one close by, or through Bluetooth to a mobile phone with data access. There is also word of a 3G version of the MiND in the future, but no info on timeline or any details at this point.
One of the main downsides to this device is the lack of mobile juice. The battery is rated to last as much as two hours but would barely make that in our tests, depending on what the device was doing. A lot of Wi-Fi internet cut the time significantly in our tests. To compensate for this Clarion supplies in the box a generously long 6-foot AC adapter and a car adapter to power the device on the road. There is also a battery with larger capacity that can be purchased for an additional $150. Another weak point could be the boxy size. Compared to most mobile computers the MiND is quite small. Compared to many GPS devices it could be considered quite large. The big screen at nearly 5 inches is nice, but the frame gives it a width of just under 7 inches making it a little too big for a pants pocket, but small enough to fit in most jackets.
The Clarion MiND definitely sits at a crossroads somewhere between smartpones, netbooks and UMPC's and would fit the bill perfectly for someone looking just for the features that it has. Unfortunately in your travels you may find you will still also need a phone and a computer in your bag, making the MiND one more thing to carry. A 3G version would give this device quite a bit more mobility, and the ability to customize and install 3rd party applications would also be a huge lift. But, all-in-all we found the Clarion MiND to be a solid device that does a great job with the features it has. Anyone looking for a good mobile internet GPS device that does a bit more, actually quite a bit more, the MiND is a difficult device to pass up.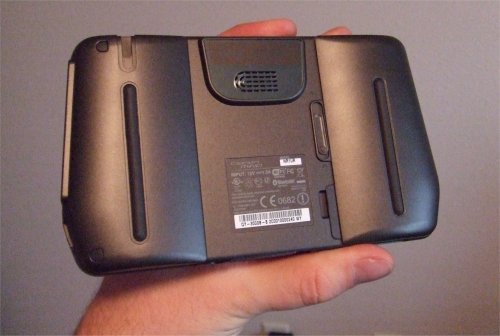 Clarion MiND
Amazon Product Page
Clarion MiND, GPS, Hands on, mobile devices, mobile internet GPS, Review