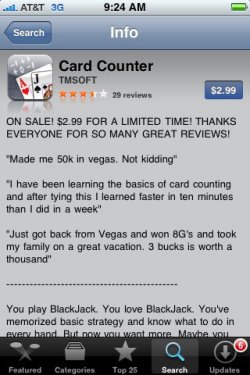 Whenever there is controversy regarding an iPhone app, it's usually Apple who has the problem. In this case it's Vegas who has a bone to pick with an iPhone app. Nevada gaming officials aren't happy about a card counting app for the iPhone and iPod touch. Obviously it gives Blackjack players quite an advantage.
In fact using any device to count cards is considered a felony under Nevada laws. Good thing for cheaters that the app has a "stealth mode," which makes it harder to spot unless you're really looking for it. Individual casinos have their own policies on cellphones, so you better check first and make sure you know the rules, unless you plan on an extended vacation.

Kind of a funny story when you consider what a scam gambling in a casino is. The odds are stacked against you at every turn. They cheat you every day, yet they're gonna complain about you cheating with an iPhone.
app, Apple, BlackJack, Card counting, felony, iPhone, vegas