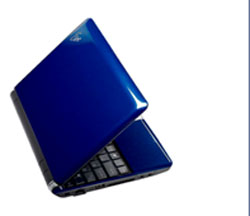 Asus was one of the first companies to start the netbook segment and its Eee netbooks are the systems that prompted many computer makers to enter into the netbook category. Asus has a wide array of models and systems in its Eee lineup and today it has introduced its latest machine.
The new Asus Eee 1000HE is the first netbook to launch using the new Intel Atom N280 processor. The N280 is slightly faster than the N270 it replaces and is optimized for better battery life. The machine uses the Asus Super Hybrid Engine to boost CPU speed for performance or to lower it to get longer battery life depending on the user's needs.
The machine has a battery life promise of 9.5 hours and uses a 10-inch LED backlit display. The 1000HE uses the new MacBook-style chicklet keyboard that finally moves the right shift key into the correct position. The machine is available for pre-order now at $399 before a $25 discount for pre-ordering.
1000HE, ASUS, Eee, Netbook