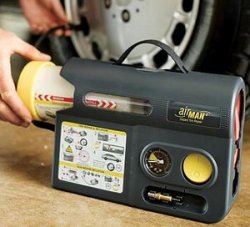 Flat tires stink. specially if you don't have a spare with you. You could drive home with 3 tires and a rim, but that just leads to a shower of sparks as you tear up the asphalt and ruin your rim. The AirMan Tire Repair System will fix your flat tire "at the touch of a button".
It works by injecting some kind of sealant into the flat tire while inflating it at the same time. So it should be a useful thing to keep in your car. They claim that it's fast and give you safe driving for 200 miles, which should be enough to get you where you need to go.

It will cost you $79.50, with sealant refills costing $29.50.
AirMan, drive, emergency, Repair, system, tire