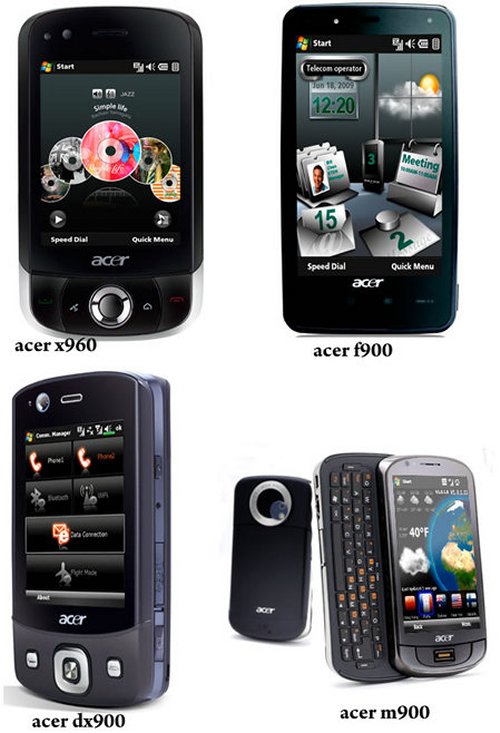 Acer launches the Tempo line of mobile phones. The four new phones include the X960, F900, M900 and DX900. They are all touch-enabled and based on the Windows Mobile OS. The first set of devices will be based on the existing version of Microsoft's Windows Mobile OS.
The M900 comes with a QWERTY keyboard, a 3.8-inch screen, and a fingerprint scanner. It also has HSDPA (High-Speed Download Packet Access) support, built-in GPS (Global Positioning System), and a 5-megapixel camera. The F900 also comes with a 3.8-inch screen and features a 3.2-megapixel camera, and you also get faster uploads using HSUPA (High-Speed Uplink Packet Access) and support for Wi-Fi. Both phones will start shipping at the end of March or the beginning of April.

The second set of smartphones that will be based on Windows Mobile 6.5, are the X960 and DX900. The X960 will come with pre-installed GPS software, a 2.8″ VGA touch screen, with High speed HSPA connectivity, and a virtual keyboard. It also features direct access to key applications via widget-based home screen, a 3.2MP Auto-focused camera. Not much is known about the DX900, but it will feature a physical Qwerty keyboard and a 3.8″ WVGA touch screen, fingerprint reader, a 5 MP autofocus camera, HSPA, WiFi, BT, Outlook, and Office. It has a standby time 160h / Talk time: 5h.
Acer, DX900, F900, M900, phones, tempo, X960