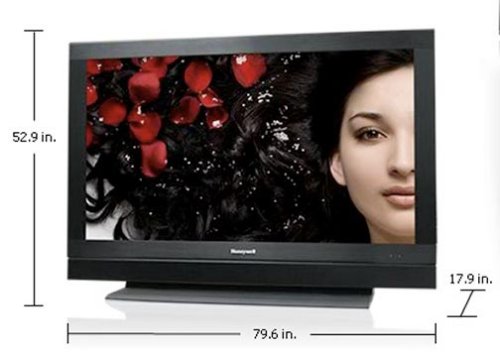 How does that headline grab you? Start saving your money now. According to HD Guru, Honeywell will sell an 82″ 1080p LCD in the US THIS year. Honeywell isn't exactly a name we associated we the next huge-ass LCD.
They are actually just licensing their name to Taiwan-based Soyo, who will be making this 300-pound behemoth. Some features include 120Hz motion-blur reduction, 178-degree viewing angle, 3 HDMI inputs, and a dynamic contrast ratio of 120,000:1. The model number is MT-HWGWT8218AM.

Sure, Sharp and Samsung have shown off this size, but according to HD Guru, neither promised to produce true HDTVs for the masses just yet. No price yet, but it will likely be expensive.
1080p, 82 Inch, Honeywell, LCD, Soyo