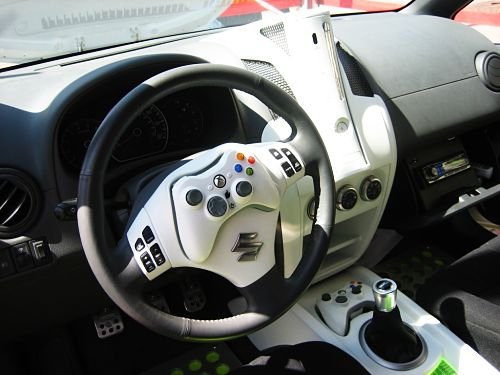 Apparently, this modder hated the thought of leaving his console home alone while he was out and about in the world. Separation anxiety no doubt. Yes, this is an Xbox 360 Console and the Controllers Modded in a car! An Xbox 360 in a car, you ask? Yes. And look how well the car and the Xbox get along. It's like they were meant for each other.
The XBox 360 has been embedded in to the dash while 1 controller rests in the steering wheel and the other sits comfortably in front of the gear shift. It's a great idea, but the one fatal flaw is that at some point, you will have to park that car and walk away. At which time a thief throws a rock through the window and makes off with your console. It really is a beauty though.

Looks like he did up the whole color scheme on the interior. Xbox 360 in a…Suzuki?
car, DIY, game, gamer, hack, Microsoft, mod, modded, xbox 360