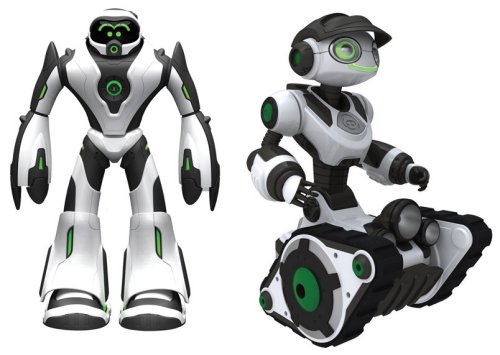 As always, WowWee has some new robots up it's sleeve, despite branching out into other products. They look interesting as ever. What I like about their robots is that they actually infuse them with some personality.
In this case, Joebot is the large guy. A dancing rhythm robot that responds to beats. He's the life of the party. The Roborover explorer on the other hand, starts out shy and gets bolder over time. I love the design on these guys. Full press release below.

HONG KONG – January 6, 2009 – WowWee, an Optimal Group company (NASDAQ:OPMR), announced its newest line of innovations scheduled for release in 2009, in advance of the Consumer Electronics Show in Las Vegas, January 8-11. Consumers can expect to see items from four lines, including WowWee Technologies™, which now includes a new category of iPod compatible multimedia pico projectors powered by Texas Instruments' DLP® Technology. The other key lines, focusing on cutting-edge entertainment robotics, plush, and flight, are WowWee Robotics™, WowWee Alive™, and WowWee FlyTech™. Highlights include:
WowWee Robotics
The next generation of WowWee's award-winning Robotics line includes two playful companions – the Joebot™ and Roborover™ robots. The Joebot robot is a content-packed, walking, talking interactive buddy with a sense of humor and rhythm. Featuring voice command control, the Joebot robot is capable of responding to key phrases via sound sensors; he can also be controlled by his responsive hands or by the Robosapien™ robot's remote controller. The Joebot robot is not your average Joe – in fact, he can beatbox and dance – just tap out a beat and he will repeat it perfectly while grooving along. His movements are fast and fluid, and he is able to avoid obstacles via infrared sensors or detect if he falls over with tilt sensors. Various modes include Wandering, Patrol, Talk, Guard and Battle Modes. In Battle Mode, for example, he will wander freely while tracking and blasting objects with his hand LEDs; you can even challenge him to a "duel" using any TV (IR) remote controller.
The Roborover robot is a talking, tread-based, roving explorer with an inquisitive personality that grows to become more confident as users navigate and play with him. The Roborover robot is operated via remote-control and features poseable arms, head and waist. This shy little explorer features spoken content, various driving-based games, infrared sensors for obstacle avoidance, and tilt sensors allowing him to perceive when he has fallen over. The Roborover robot also features a "Follow Me" homing function that will trigger this exploratory companion to search for his user – even in the dark! Sensor-based LED headlights will automatically turn on in the dark to illuminate his path.
Information about WowWee's diverse product portfolio – including the latest product announcements for 2009 – is featured on www.wowwee.com.
dances, dancing, Joebot, Roborover, robot, WowWee