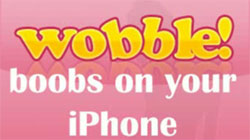 Like most guys, I have a high appreciation for boobs. I sincerely think that cleavage is the only reason for Jessica Simpson to live. A new app for the iPhone has been announced that will help guys take their appreciation for Baywatch style boobage to a whole new level.
The app is called Wobble and lets you take pictures of your favorite girl (or any other object) and choose specific sections of the image to add a Wobble effect to. Sure, you can make other things wobble like your friends beer belly, but that's not the real reason for this app.
Once you apply the area of the image you want to wobble, you shake the iPhone up and down. The application wobbles the jubblies up, down, left, and right depending on how fast and in what direction you shake your iPhone. This may well be the best app ever released for the iPhone.
App Store, Apple, iPhone