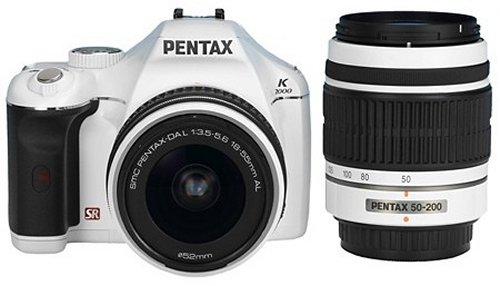 Pentax's Storm Trooper approved white and black K2000 DSLR isn't for everybody, but it will make you stand out from the crowd. The camera, and both 18-55mm and 50-200mm lenses, is now available for pre-order direct from Pentax.
Best of all, is the price. Only $679.95, which is much less than we thought it would cost. It won't ship until mid-February, but if you're looking for a camera that matches your Stormtrooper armor, it's worth the wait.

In the box you'll get: DA-L 18-55 Lens, DA-L 50-200 Lens, USB Cable I-USB17, Strap O-ST84, Hot Shoe Cover FK, Eyecup FQ, Body Mount Cover, 4 AA Energizer Lithium Batteries, Software CD-ROM S-SW84.
available, camera, K2000, Pentax, pre-order, White