| | |
| --- | --- |
| | |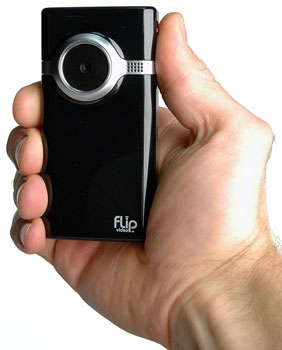 Thank you for all the great suggestions of themes that you would make with your Flip Video Mino camcorder for our What the Flip? giveaway contest. The contest period has ended and it was time for us to pick a winner.
Some of our favorites include: "A comparison of the events following consumption of "food" at drive-thru "restaurants"." by Alex and "How to Drive your Mother Insane in Less than 24 Hours!" by Julianne B and her government-bribed offspring.
But, for this contest we said we would do a random drawing and I'm glad we did since it would be hard to choose from a lot of the entries, they were all pretty good. So, we put the names in a hat and grabbed out kyle3fan who said "I would give the camera to my 11 year old son and have him make a video of a week in the life of a 5th grader in small town America. Then save it and show it to him after his college years to show him how things had changed over time."
Not too bad of an idea kyle3fan, congratulations! We'll be sending you an email shortly to get your address to send out the Flip Video Mino camcorder.
Everyone be sure to check out the uploaded videos at MTV's What the Flip? site and we'll be watching for kyle3fan's video. Thanks to everyone for playing!
Contests, Flip Video, Giveaways, Mino, MTV