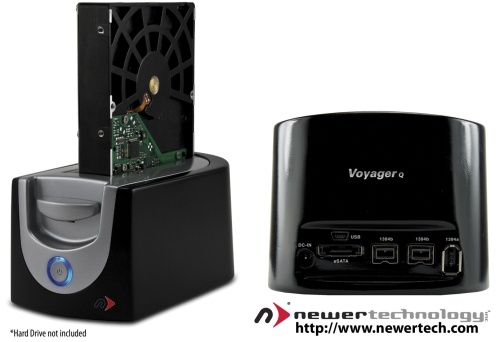 What's one to do with all of those used up hard drives lying around? Turn them into swappable storage options, ala flash memory cards? That's the idea anyhow with the new NewerTech Voyager Q hard drive docking station, being shown off at MacWorld and costing around $100.
Looking something like a stylish, small toaster for a hard drive, the Voyager Q is designed to turn any 2.5- or 3.5-inch SATA I/II drive up to 2TB into a bootable and hot-swappable external drive solution. It works with both Macs and PCs and lets its owner boot and swap drives at will, offering transfer speeds with a connected computer of up to 300MB/s.
Features of the Voyager Q include four interfaces (FireWire 800/400, USB 2.0, eSATA), a hard drive eject lever, two color status LED and quiet operation. It is available now.
External Hard Drives, Hard Drives, Newer Technology, SATA, voyager q