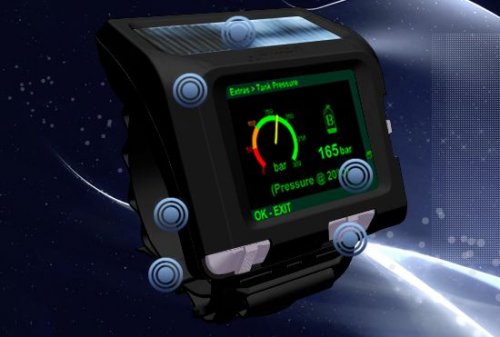 Whether you live the life of James Bond or Lara Croft, you may occasionally find yourself underwater, scuba diving. From Swiss company Uemis comes this computer with colored OLED display. The Uemis Zurich diver assistant supports 10.000:1 contrast ratio in a colored display, has intuitive menu control, and 5-way navigation with three non-slip slide controls.
The scuba driver assistant can be connected to a PC via USB and the myUemis can also be synchronized in a similar manner. It also has a tank pressure sensor which transmits the tank pressure to the SDA uemis Zurich. The wristbands are available in three different sizes, in case you have an odd wrist.

The entire unit gets power through a lithium-polymer battery or integrated high-performance solar cells. Great way to get all the info you need while diving.
assistant, display, dive, gear, OLED, scuba, Uemis Zurich